For those wishing to start going green, there are a number of books and resources out there to help you get started.
One that has greatly assisted me is The Self-Sufficient Life and How to Live It by John Seymour.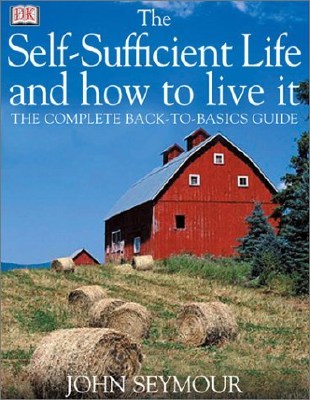 Seymour covers the wide spectrum of husbandry from cover to cover. He touches on all aspects of agriculture and provides detailed plans for working your land, whether you have one acre of total land, five acres or more, or even an urban garden.
The book is well-laid out with sections on growing vegetables, raising animals, land preparation & maintenance, harvesting wild game, dairy, brewing & wine making, green energy, crafts & skills, and so much more. Each section gets very detailed with illustrations on various things such as how to butcher a beef cow into different cuts or how to make butter, cream, or cheese. The detail really is top-notch.
The book has helped me with a number of things. Among them were harvesting wild concord grapes and making homemade jam, levering up boulders without the help of tractors, building stone walls, successfully planting & harvesting my first crop of red potatoes, and providing me with new knowledge and a wealth of inspiration.
This book could literally teach you how to completely survive on your own, granted a few things. A real hard core DIY(Do It Yourself) supporter could use this book to sustain themselves year round, where someone who's looking to just go green and save some cash could also make great use of this book. Even by learning and utilizing just a small number of sections from this book, it could save you hundreds of dollars plus reward you with a lovely harvest or a handy skill you could pass down to your children.
I'd like to end with a quote from the book that I feel we should all strive to enact.
"Nothing should be wasted on the self-sufficient holding. The garbage collector should never have to call." - John Seymour
Originally, I planned to maintain two blogs separate from one another. One would be for photography/design and the other would cover my interests and involvement in agriculture, farming, masonry, conservation, politics etc. Since I already am maintaining my photography website, I figured that I would condense my additional work into one blog.
Twitter has really made me appreciate the act of condensing. The art of the "micro-blog"!
So be on the look out for a variety of updates from me soon.